We will utilize our vast experience to offer unparalleled Quality, interspersed with luxury as well as comfort, in our constructions, to make homes, which give customers, Satisfaction and unrivaled delight.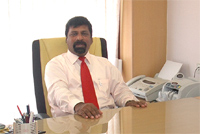 Leo Pereira is a much-traveled man. He was born in Navelim, to Mr. Antonio Pereira & Mrs. Alexandrinha Pereira. After completing his secondary education, he joined Goa Shipyard to study further in the Technical Line and subsequently ventured in the merchant navy. It is during this period that he saw the best of what the world could offer and always dreamt to get the same way of living to his Goa.
Seeing the potential in the real estate business, he traded his oily jumper from the merchant navy for construction business and formed L & L Builders and since then has soared to be one of the finest and most sort after builder in South Goa.
He is proud of the numerous projects he has built in and around Navelim-Goa which has also earned him dedicated clients ready to invest in any project he undertakes. He has now set his eyes beyond South Goa and once he spreads his wings throughout Goa, he shall have achieved what he set out to do.
Member: He is an active member of GCHOI, CREDAI