L&L Builders, well known for providing beautiful homes in Goa, brings forth their newest venture, L & L Frangipani a schemes of three bedroom row & independent villas & two & three bedroom apartments.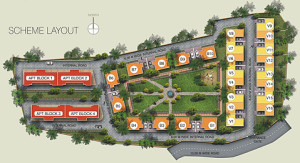 Set amidst lush greenery the homes are located at Daddio Navelim a quiet village with abundant in open spaces & serene environs. Situated just along the proposed expressway Nh17 the scheme provides you the convenience of being in proximity to urban amenities. The Navelim Church Rosary School & college is just a km away, while the Konkan railway station is a mere 2km away.
Eco friendly & green in its approach L & L Frangipani conforms to high standards of construction methods & finishes ensuring you the ideal home for you & your family.